So one of the things I love most about Takimag is that I never know what to expect. The other day, I was running through my usual morning routine and bumped into one of the most hysterical articles I've ever read:

These days, [San Francisco] is in deep shit—much of it human....





According to a group called Open the Books—whose partial mission statement seems to include counting turds on city sidewalks—the following are statistical facts regarding the Shitty Streets of San Francisco....





• 6,676 unexpected human turds have been reported this year already....





• There were 13 reports of human waste in front of City Hall; 17 at the U.S. Marshals office; and 67 at the Tenderloin police station on Eddy Street. These public defecators do not lack for moxie....





Open the Books also maintains an interactive Turd Map that plots the tens of thousands of reported open-air human poopings with little brown pin points....





If you're wondering why city officials simply don't tuck the homeless away where they can't be seen, it's likely because San Francisco's incredibly cloistered and soft elites adhere to an ideology that forces them to make a public display of "tolerance," which is why it's considered bad cricket to complain about seeing homeless people jabbing needles into their own necks and using tree trunks as toilet paper....





Last year, the city formed a "Poop Patrol" to tackle the crisis. Comprised of five workers who each earn $184,000 yearly in salary and benefits, they enjoy the dubious honor of being the city's first-response squad whenever anyone reports seeing human feces on the streets....





Developers have also produced a phone app called SnapCrap that allows users to point, click, and officially report all instances of sidewalk shittery....

Holy Shit! Did an article for the Onion get posted on the wrong web site? A SnapCrap app? Poop Patrol? At nearly $1 million a year? "Unexpected human turds"? As opposed to expected human turds?

And the best part by far is that the idiot liberals who live there are actually proud of the fact that they live in a city buried in human shit because it makes them woke. I'd think one of the wealthiest (if not the wealthiest) cities in the wealthiest nation in human history could do better. I guess not.

Sorry guys; I'd rather be a racist/sexist/fascist/misogynist deplorable with clean streets.

Current Mood:

amused

Current Music:

Depeche Mode
Due to family medical issues, I'm a little behind the curve with this, but hey, if you want breaking news, you probably ain't reading this anyway.

My first thought when the essence of the Mueller Report came out was Trump gets his second term no matter what. It now doesn't matter who the Democrats run, Trump wins in a landslide. At this point, I doubt it would even matter if the economy fell off a cliff; the Democratic Party is dead.

My next thought was, "There goes several American institutions down the toilet." I can't believe anyone will believe anything the mainstream media says for at least a couple decades. I lost all faith in the MSM a long time ago, but even I would have never believed CNN, the New York Times, etc. would have flat out lied, repeatedly, for years, about something as completely stupid as Russiagate. Not selective reporting of facts, not slanting the story, not using weasel words to say one thing while giving the impression of saying something else. That's what I've expected from the MSM since delivering copies of the Flint Urinal... er... Journal when I was twelve. But just flat out lying? And not just once or twice, or one journalist going off the rails, but rather 24/7, cover-to-cover lies? Not in my darkest moments would I have ever believed such a thing would be possible.

Then we have the FBI/CIA/NSA/State Department's efforts to hand the presidential election to Hillary. Granted, the grandiose veneer has been chipping off these agencies for decades, but their attempt to stage a soft coup here in the US, as opposed to the more-typical overseas activities, will wreck any credibility these agencies had both here at home and abroad for a very long time, if not permanently.

And finally, we have the DNC. How hard is it for these assclowns to figure out that Hillary lost because the majority of Americans simply do not like her as a person? Sure, both of the major political parties have gone tone-deaf to the voters and live in a self-referential bubble. But just how colossally stupid do you have to be to a) come up with such a cockamamie story to begin with, b) keep harping on it non-stop for more than two years, then c) when it all falls apart, double down and keep yapping about it. I think Mr. Sanders may soon regret lashing himself to the boat anchor the DNC has become.

The big question is, "Why?" The press, I actually understand. The media has made a killing off of Trump. I read yesterday over at Naked Capitalism (or maybe Automatic Earth) that CNN has increased the fee for a 30-second ad from less than $3,000 to more than $13,000 since Trump took his infamous escalator ride. That is a lot of Benjamins, and bottom line, the press is and always has been about the Benjamins above all else. In the case of the various government agencies, maybe they felt that their budgets would be under pressure if the US and Russia normalized relations, but there are plenty of valid reasons to be cautious, even suspicious, of Russia without inventing something as dumb, and easily disproven, as Russiagate. And the DNC? Maybe the people running the show really are just that stupid? Granted, I've seen plenty of institutions get stuck in a narrative and have difficulty breaking out of it, but at some point the antibodies kick in and the ship rights itself. (Excuse me while I madly mix my metaphors.) Were people working for the party that terrified of the Hillary cabal that they would rather see their party implode than speak up? That is some serious dysfunction you got going there.

Anyway, enough of my blah, blah, blah. Here is a selection of what others have to say:

Matt Taibbi: It's Official: Russiagate Is this Generations WMD

The [New York Times] was signaling it understood there would now be questions about whether or not news outlets like themselves made a galactic error by betting heavily on a new, politicized approach, trying to be true to "history's judgment" on top of the hard-enough job of just being true. Worse, in a brutal irony everyone should have seen coming, the press has now handed Trump the mother of campaign issues heading into 2020.





...





Imagine how tone-deaf you'd have to be to not realize it makes you look bad, when news does not match audience expectations you raised. To be unaware of this is mind-boggling, the journalistic equivalent of walking outside without pants.

The Automatic Earth: Can We Lock Up Rachel Maddow Now?

Message to Bernie Sanders, Joe Biden, Kemala Harris, Tulsi Gabbard and the rest of the crew: you can stop asking for campaign donations, because you no longer stand a chance in the 2020 elections. Your own party, and the media who support you, made sure of that. Or rather, the only chance you would have is if you guys start another smear campaign against your president, and I wouldn't recommend that.

The Narrative is dead! Long live The Narrative!





That's what played on CNN, NBC, and The New York Times yesterday as they struggled to digest the parting meal Robert Mueller served to the RussiaGate lynch mob: a nothingburger with a side of crow-flavored fries. Mr. Mueller was careful, though, to leave a nice red poison cherry on top with his statement that "while this report does not conclude that the President committed a crime, it also does not exonerate him."





Mr. Mueller, who ought to know better, could not be more in error on that too-fine-a-point. The official finding that no crime was committed is, ipso facto, an exoneration, and to impute otherwise is a serious breach of his role in this legal melodrama. Prosecutors are expressly forbidden to traffic in defamation, aspersion, and innuendo in the absence of formal charges. So, it will be interesting to hear what Mr. Mueller has to say when Jerrold Nadler reels him into the House Judiciary Committee, as inevitably he will, to do to some 'splainin.'

The Russia Times: "One of the greatest hoaxes in US history": Russiagate Narrative's Peddlers to be Held Accountable?

The American establishment and mass media not only wasted millions of taxpayers' dollars "fomenting and stoking tensions" between world nuclear superpowers, but also undermining any remaining trust in them, political analyst Charles Ortel told RT. Americans will have to be looking elsewhere for alternative news sources to avoid being duped any further by the chorus of disinformation from the mainstream media, he added.

Taki Magazine: Russiagate - A Bright Shining Lie

After two years of hearing from haters in politics and the media that President Donald Trump was "Putin's poodle," an agent of the Kremlin, guilty of treason, an illegitimate president who would leave the White House in handcuffs and end his days in prison, we learn the truth.





It was all a bright, shining lie.

...and pass the beer nuts.

Current Mood:

pessimistic

Current Music:

Beck
Bob Seger was in Tampa as part of his farewell tour. He may be pushing 80, but he still knows how to put on a show. One of Debbie's brothers was there with his wife and son, and one of my cousins came with us as well. We were laughing that it was a good thing Debbie's nephew came along so we wouldn't be the youngest people in the crowd. We had a great time and it was good to see some family we don't get to see very often. One thing with a crowd made up of old people is that everyone was pretty mellow. Not a lot of pushing and shoving, nobody puking, no fights, etc. The layout of the Amalie Arena makes it easy to get around in and find your seats. We were a little surprised by the lax security: we never had to show anyone that we had tickets. I put my ticket in my pocket when we got out of the car and never took it out until we got home. I used to work for the company that provides security; we checked tickets at the screening area, again when you went into the door, then again when you got to your section. It kinda pissed me off a little; I paid $125 for a ticket that never saw the light of day. But bottom line; awesome show. As always.

Tax season is in full swing and boy is it swingin'. I've already done more returns that I did last year and just with the returns I know are coming my way, I will be doing at least that many more. The phone is ringing off the hook and there is a steady line of people walking up on our porch. We always laugh about how nobody ever comes back to our out-of-the-way corner of the park, but we sure are getting company this year.

In medical news, I've gone from having no insurance to having two different insurances. I need to go through the foot-thick file of bills that have been sitting in the file cabinet since January and try to get some of these people off our backs. My pitch to them will be simple: No job, no money, whatever Florida Medicaid is willing to give you is all that you are ever going to get, so take it and be happy. Anyone want to take bets that will work? Heh.

In our continuing series documenting TEOTWAWKI:

The whole Russiagate thing started with Russian hackers supposedly breaking into the DNC's e-mail server, revealing that the entire Democratic Party apparatus conspired to ensure Hillary Clinton was the Democrat's 2016 presidential candidate. At the time I and many others said that it was complete BS; the e-mails had been copied onto a flash drive by someone working at the DNC who was probably sickened by their chosen party. Well, we were right:


We veteran intelligence professionals (VIPS) have done enough detailed forensic work to prove the speciousness of the prevailing story that the DNC emails published by WikiLeaks came from Russian hacking. Given the paucity of evidence to support that story, we believe Mueller may choose to finesse this key issue and leave everyone hanging. That would help sustain the widespread belief that Trump owes his victory to President Vladimir Putin, and strengthen the hand of those who pay little heed to the unpredictable consequences of an increase in tensions with nuclear-armed Russia.

The article goes on at length showing how that conclusion was arrived at. It is written by geeks, but in non-geek plain English. Long but worth the time if you care at all about that little thing called "truth".

David Holmgren is a permaculture guy from Australia. He recently published an apology from the Baby Boomers to the Millennials and whatever we end up calling GenZ. The entire thing is loaded with good stuff, but this bit caught my eye:


While our parents' generation experienced the risks of youth through adversity and war we used our privilege to tackle challenges of our own choosing. Although some of us had to struggle to free ourselves from the cloying cocoon of middle class upbringing, we were the generation that flew like the birds and hitchhiked around the country and the world. How strange that on becoming parents (many of us in middle age) we believed the propaganda that the world was too dangerous for our children to do the same around the local neighbourhood. Instead we coddled them, got into the chauffeuring business, and in doing so encouraged their disconnection from both nature and community. As we see our grandchildren's generation raised in a way that makes them an even more handicapped generation, we must be truly sorry for the path we took and the disease we created.

Gen Handicapped. I like it; has a certain ring to it.

One of the indications of a nation in decline is loss of faith in its institutions. For example, every nation in the world has always accepted that any plane deemed airworthy by the FAA did not need to go through whatever equivalent system that country has in place. Now, thanks to the 737 MAX debacle, that will surely change:


With the 737 Max 8 grounded worldwide, the MCAS system is now under scrutiny. A Boeing spokesman said on Sunday that the system met all of the Federal Aviation Administration's (FAA) certification requirements, but a group of anonymous Boeing and FAA engineers told the Seattle Times that the FAA delegated much of the safety analysis to the company itself, which cut corners to deliver the plane on time.

Typical corporate short-term thinking; rather than risk being "late to market" and lose sales, rush the process, kill customers, and lose even more sales than you ever would have had you just taken the time to do it right. It's the Flaming Pinto all over again, only this time, both a major corporation and a federal regulatory agency will be gettin' an ass whoopin'.

Last but certainly not least, we have a Matt Taibbi two-fer. I knew he had something big brewing when he went into radio silence for nearly three weeks. It was worth the wait. By now, everyone has heard that the Pentagon failed its first-ever audit. The problem is that they really didn't fail so much as make such a hash of their books, teams of accountants were unable to even offer an opinion:


At the tail end of last year, the Department of Defense finally completed an audit. At a cost of $400 million, some 1,200 auditors charged into the jungle of military finance, but returned in defeat. They were unable to pass the Pentagon or flunk it. They could only offer no opinion, explaining the military's empire of hundreds of acronymic accounting silos was too illogical to penetrate.

When I was a kid, Senator Everett Dirksen allegedly said, "A million here, a million there; pretty soon, you're talking real money" in reference to federal spending. This was later inflated to "A billion here, a billion there...". What Taibbi dug up goes far beyond that:


...the Defense Department a few years ago found about $125 billion in administrative waste, a wart that by itself was just under twice the size of that $74 billion Enron bankruptcy. Inspectors found "at least" $6 billion to $8 billion in waste in the Iraq campaign, and said $15 billion of waste found in the Afghan theater was probably "only a portion" of the total lost.

My favorite bit of the entire article:


Meanwhile, the Air Force, which has a $156 billion annual budget, still doesn't always use serial numbers. It has no idea how much of almost anything it has at any given time. Nuclear weapons are the exception, and it started electronically tagging those only after two extraordinary mistakes, in 2006 and 2007. In the first, the Air Force accidentally loaded six nuclear weapons in a B-52 and flew them across the country, unbeknownst to the crew. In the other, the services sent nuclear nose cones by mistake to Taiwan, which had asked for helicopter batteries.

When I read that, the first thing that popped into my head was an episode of M*A*S*H with some high-ranking dude explaining that, no the unit could not have some badly needed piece of medical equipment, but they could have a popcorn machine. Just use form blah-blah-blah-stroke-J, cross out "Machine Gun" and write in "Popcorn Machine". I guess whoever wrote that bit was closer to the mark than they knew, only it was form blah-blah-blah-stoke-H, and you cross out "Helicopter Batteries" and write in "Nuclear Missile".

And we trust these people with essentially unlimited firepower. And a trillion dollars a year.

Speaking of a trillion dollars, some people are trying to say Sanders is full of it when he talks about the big banks getting a trillion dollars in bail-outs after nearly wreaking the entire world economy. And it's true that the number is probably no where near a trillion dollars. Taibbi shows that more likely, it's somewhere between $7.7 trillion and $29 trillion. As he points out in the article, the bail-out went far beyond just TARP. There was TAF, TALF, TSLF, TOP, PDCF, Maiden Lanes, interest on Fed Reserve balances, and much more.

Meanwhile, we got the shaft. And the bill.

I think that I posted this before, but I figure that if you made it this far, you could use some suicide prevention. I thought of this video because Debbie is training for her new job, which comes with the possibility of getting a phone call from someone famous. The trainer was talking about treating them like anyone else and not squee-ing in their ear. Sort of the opposite of this:

I think what makes me laugh about that clip more than anything is that in a poll of the 7.7 billion people on planet earth, more would likely recognize Mayim Bialik than Mark Hamill.

And I will close with Dr. Jerry Pournelle's admonition: Remember that despair is a sin.

Current Mood:

mellow

Current Music:

Beach Boys
I'm still poking around in the settings for this thing to see if I can make it look how I want it to look. First, an apology: I hate blogs that have big ugly ads right at the top of the screen. I thought I had gotten rid of that by paying money, but alas, paying money only means thatI don't see the ads (or maybe Adblock+ is killing them). Anyone else visiting the site will still see them unless they also have paid money (or possibly if they are running Adblock+). Not sure I understand the reasoning. I believe there is a way to get the ad off the very top of the screen, but I haven't got that to work yet. Or maybe I have. I'm not real sure. The whole setup seems odd.
[Aside: I don't mind the pay-vs.-ads model. I understand that whoever is hosting this thing needs to make money, and I would rather work with someone who is upfront about it rather than do the Google/Facebook trick and secretly collect data on everyone and sell it to the highest bidder. But it should be either/or. If I'm paying, ads should not be inserted into my blog.]
I also don't like how the headers work. I've always had a primary header (Ric & Debbie's Place) followed by a quote. There is a place for a second header line, but it is limited to 20 or 30 characters, and it doesn't allow any formatting. For now, I stuck the quote on the top of the sidebar, but the whole thing is so small, it may as well not even exist. Worse, on mobile devices, the sidebar gets cut off the side and shoved to the bottom of the page.
I'm getting used to the old LiveJournal online editor, but the new one is too limiting unless you are just posting tweet-like entries. If you need to do any sort of serious formatting or [gasp!!!] edit the actual HTML, you are forced to use the old editor. [Update: I just spent an hour I don't have hand editing the HTML for this post because some asshat at LiveJournal has decided that instead of using the standard HTML paragraphing, they will insert dozens of div's and span's in some lame attempt to improve on the standard p-/p paragraph marks. Grrrrr.] I hope the new one is just something added on to make it easier to do quick and dirty posts from a mobile device and not a replacement for the full-on editor.
So yea, the bloom is off the rose and I am once again looking for a blog host that a) doesn't care what I say in my own damn blog posts, b) doesn't require me to run a full-blown mirror server on my machine just to make blog posts, and c) gives me a reasonable level of control over the format of the thing. In other words, I'm looking for Google's Blogger system without the evil.
Speaking of evil, has anyone else noticed how cable news has turned into Orwell's Two Minutes Hate, with the image of Emmanuel Goldstein replaced with Donald Trump's face and Big Brother's replaced with Nancy Pelosi's? The primary difference is that even in Orwell's dystopian nightmares, the Two Minutes Hate only lasted two minutes each day rather than the 24/7 seen on CNN and Friends. I don't know if that many people realize just how deep in the shit we are at this point.
I figure now that the 2020 Presidential Campaign Season (tm) is in full swing, I will try my hand at some predictions. If they fail to come about, I'm sure no one will remember anyway. However, if they come true, please know you read it here first.
Here we go:
If the Democrats run a Standard Democratic Candidate from central casting (Kamala Harris, Joe Biden), Trump will do a Bush-the-Younger and win in a near-landslide after squeaking into his first term with a minority of the popular vote. However, if the actual voters in the Democratic Party can pry the apparatchiks' cold dead fingers off the wheel and put up Bernie Sanders or someone very much like him, Trump will be booted out the back door. What could queer things is if the economy does a 2009/1929 swan dive. In that case, the DNC could literally run a yellow dog, and Trump will still be out.
In any case, whether Trump exits stage left in 2020 or 2024, he will be replaced with a Democrat. That Democrat will be granted exactly four years to fix everything. They will of course, fail. Completely. Utterly. In every detail (see Jimmy Carter). Also, if the economy hasn't already imploded under Trump, it almost certainly will at this point.
In my opinion, whoever/whatever rides in next (2024 or 2028) singing in an exaggerated operatic voice, "Here I come to save the day!!", we will be in for interesting times in the sense of the ancient Chinese Curse If we are very lucky, we get a Vladimir Putin. I don't think we're going to be lucky. I certainly hope I'm wrong, but we've dug ourselves way too deep in a hole. We seemed determined to burn every last shred of good will we have with every nation on the planet. As Elrond said, "Our list of allies grows thin." In fact, I can't think of a single country that can be considered a true ally of the US at this point. A few parasites like Great Britain or frenemies like House of Saud. But allies? Phbtttt. Furthermore, we have completely destroyed our political and social institutions at home. No one has any moral authority. It's all about who can scream the loudest into a bullhorn. That never ends well. The incessant looting of the working and middle class by the elites is just the rotten cherry on the shit sunday.
And no, I don't have a solution. I don't have a plan. I don't even have a vague notion of a hint of a thought about a hypothesis concerning anything that could be done. Other than the old school duck-and-cover
Current Mood:

cranky

Current Music:

Barenaked Ladies
We pause to express our gratitude to you, oh Flying Spaghetti Monster, for sharing your bountiful Noodly Goodness with us.
[sluuuuuuuuuuurp slurp slurp sluuuuuuuuurp slurp slurp smack smack]
Ahhhhhhhhh!
Ramen
Current Mood:

satisfied

Current Music:

10,000 Maniacs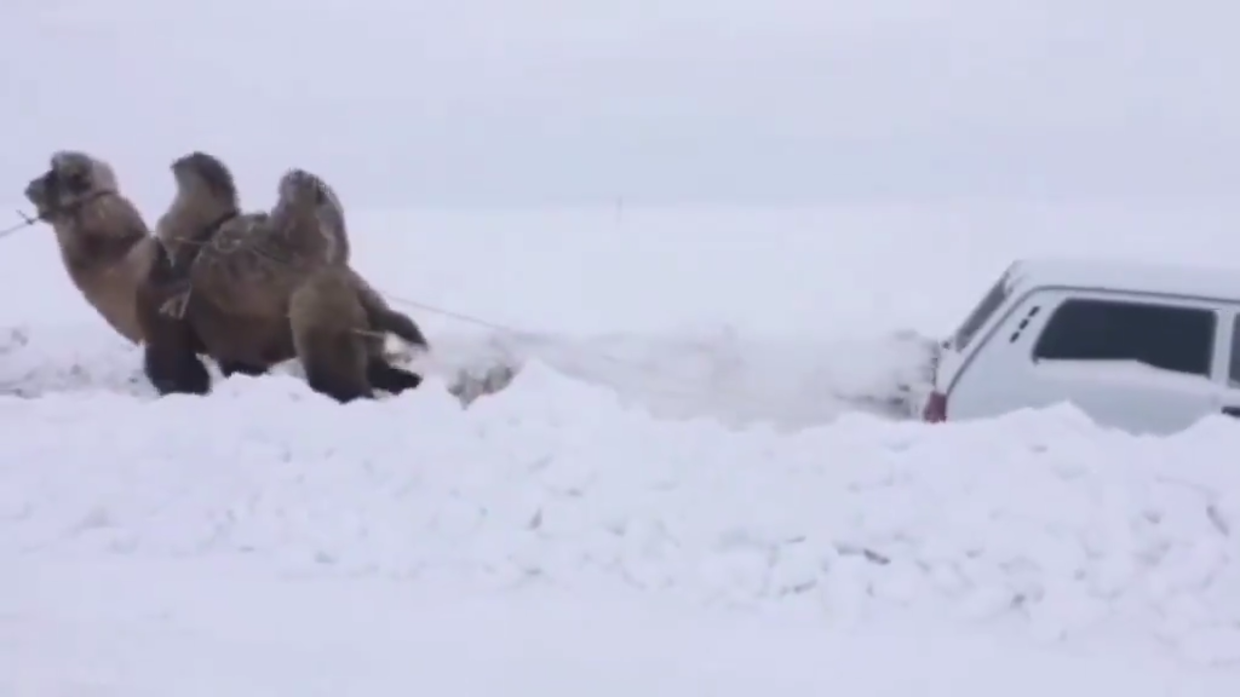 Any day can be Hump Day....
So I'm tooling around the internet, minding my own business, when this pops up:
As numerous US states introduce bills that would require or encourage 'Bible literacy' classes in public schools, President Trump has given the proposals the thumbs-up, calling the idea "great!"




Lawmakers in six states have introduced 'Bible literacy' bills, aimed at encouraging high schoolers to brush up on the Old and New Testaments alongside their regular subjects.
Um, didn't we already go through all this, like, fifteen years ago or so? Of course Florida is one of the six states, natch, so I guess its time to dust off my copy of The Gospel of the Flying Spaghetti Monster and get serious about my Pastafarianism. I must admit I've been neglectful of worshiping His Noodly Goodness lately, but I just remedied that by polishing off an entire package of ramen.
Speaking of which, am I the only one who cannot eat ramen without thinking of this movie? Right? Guys? Hello? (sigh....)
Anybody remember when Google's motto was "Don't be evil"? I realize that we all now know that was never anything but a lie, but this is completely over the top:
Google and other online ad companies use intimate personal information like political beliefs, religion, sexual orientation, and even diseases and disabilities to target users for advertising




...




In response to a TechCrunch article republishing the category lists, Google released a statement claiming they prohibit advertisers from targeting based on "sensitive categories such as race, sexual orientation, health conditions, pregnancy status, etc." They do not explain why multiple categories under each of those headers can be found on their "Publisher Verticals" list.
This is all passed around to internet advertisers through something called "real-time bidding" where basically anyone with the cash can get a list of people who did Google searches for information on AIDS or local drug treatment centers. The US government could care less, of course. Whatever the multi-nationals want to do is perfectly legal, even when it isn't. However, more civilized places like Europe are at least starting to push back. We'll see how far they get before the Great Orange Gollum tries to do a Venezuela on them.
And then we have the whole shit-storm over some Catholic kids in DC wearing MAGA hats. The original "narrative" (a word that is now synonymous with "damned lies") was that a bunch of over-entitled white male punks surrounded a Native American medicine man/chief and proceeded to mock and threaten him. The response of the Tolerance Brigade was the typical intolerance we've all come to know and love, with so-called adults declaring that 16-year-old kids should be punched in the face and thrown into a wood chipper. The entire narrative was shown to truly be a damned lie by the simple act of watching, in their entirety, any of the dozens of videos of the sad-ass episode that were posted within minutes of the actual event. Every word out of Mr. Native American's mouth is a lie; he is no kind of medicine man, chief, leader or anything else. He's some homeless vagrant who also claims to be a Vietnam Vet while never having stepped foot in Vietnam. Meanwhile, the real instigators of the entire dust-up, a bunch of loons who call themselves the Black Hebrew Israelites (think Westboro Baptist Church in blackface), have been... er... white-washed out of the entire "incident" by the MSM. But no matter; the Tolerance Brigade is also psychic! They know exactly what those little MAGA-ty shits were thinking! Even though they did absolutely nothing other than act with a maturity far beyond their years by refusing to be provoked, they still deserve to be punched and thrown into a wood chipper.
So get comfy on the couch, kids and grab some popcorn because the US decline is entering the bat-shit crazy phase.
So one of the things I was supposed to do after getting out of the hospital was to "immediately" make follow-up appointments with all 27 doctors who allegedly were involved in my care while I was an inpatient. Obviously, the word "immediately" means something very different in the medical industry than it does in the rest of the universe, because I've been out of the hospital for two weeks and I'm still trying to get see some of the doctors.
But the real treat was when I tried to make a follow-up with my cardiologist, which was "VERY important!" according to the hospital staff. Well, it may have been VERY important, but it was also impossible. We called both of the cardio practices affiliated with Adventist Healthcare (owners of the the local hospital) and were told the same thing: "We don't take self-pay patients. Our fees and test are just too expensive for someone like you to pay." We tried to explain that no, we don't have insurance, but we have somehow managed to pay all of our bills in full for the last eight years. No joy. Cardiologists are different than every other specialty.
Uh huh. Right.
So we tried another tact; we explained we were in the process of getting me on Medicaid as part of the whole disability thing. "That doesn't matter. We don't take Medicaid either."
What?!?!?
(
Read more...
Collapse
)
This is late getting posted because 2018 decided to suck right to the very end (and beyond). I have been physically going downhill fast since around the middle of October. I nearly died Christmas Eve trying to take a shower. I probably should have gone to the ER then, but there was no way I was going to force my parents to spend Christmas Day in the damn hospital. I had to do Medical Stuff (tm) the day after Christmas anyway, so while we were in the general area, we tried to get something resolved. The whole thing spiraled out of control until I ended up in the ER. Unlike previous times in the ER, there wasn't any messing around; I was admitted and in a room within an hour of walking in the door.
Long story short: Congestive Heart Failure and Kidney Failure. After nine days in the hospital with endless blood tests, CT's, X-rays, ultrasounds, etc., no definitive answer why everything crapped out. The leading suspect at this point is the chemo pill I've been on for the last 18 months or so for my Chronic Lymphocytic Leukemia, but we won't know for sure until the results of the needle biopsy they did on my kidney Wednesday come back in a week or so. I could hardly breath with all the fluid on my lungs, so when diuretics didn't really help, the lung doctor did a Thoracentesis on my right lung on Sunday, then my left lung on Monday. Between the two, they sucked 5.7 liters of fluid out of my chest. No wonder I got winded walking from the couch to the front door.
(
Read more...
Collapse
)
Current Location:

The couch

Current Mood:

cynical

Current Music:

Bob Segar
As has been tradition here for many years (but apparently not last year), I give you some Youtube Christmas Cheer (tm):

And just because 2018 was the Year of Total Suck:


Christmas plans are minimal; we'll start at my parents place in the morning with a few gifts, have lunch at the clubhouse, then crash back here and try to escape in mindless TV or books. We really just ain't in the mood....
Current Location:

The couch

Current Mood:

crushed

Current Music:

Rush